Born: 7 April 1989 (30 years old)
In: Pointe-à-Pitre (Guadeloupe)
Nationality: French
–
Weight: 140kg
Arm span: 2.12m
Strong side: Right
–
Sport: Judo
Rank: Black belt 5th dan
Category: +100kg
Favourite holds: Uchi mata, O soto gari, Harai goshi
Club: Paris Saint Germain Judo
–
World Champion: 11 times
Olympic Champion: 2 times
Consecutive victories: Unbeaten since 14/09/10
Hours training per day: 6 hours
Teddy Riner was born on 7 April 1989, in Pointe-à-Pitre, Guadeloupe. He discovered sport in Aquaboulevard, in the south of Paris (15th district), where his parents enrolled him in a multisport club at the age of 5. Teddy was full of energy and tried climbing, golf, tennis, swimming… Very early on, however, he began to show a preference for judo and football.
At the age of 6, he was officially registered for both disciplines, with Paris Judo and Levallois respectively. « He was very gifted at both », recalls his father, Moïse. « I remember he played in defence for his football team, but finished the season as their top scorer! » He had to choose, however, since he could not be allowed to neglect his studies. Teddy opted for judo. « I had already achieved some very good results », he explains. « My choice was partly guided by my performance. » At Paris Judo, and then Judo Club Bolivar, he was trained by Alain Perriot.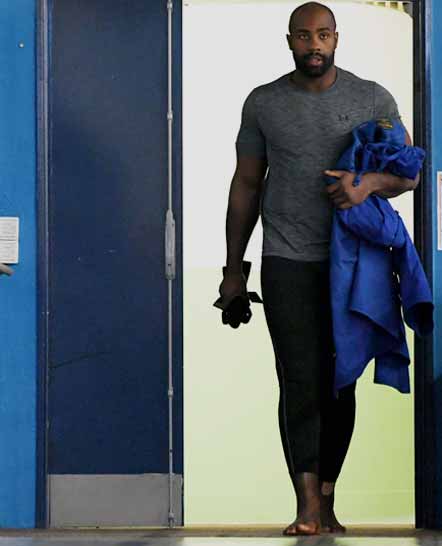 At the age of 14, he joined Pôle Espoirs de Rouen. He remained there one year, during which he trained with Dominique Paolozzi. The following year, he returned to the capital to join the French national team at INSEP, where he was a boarder. He did the bulk of his preparation with Benoît Campargue, one of the national coaches. Nevertheless, Serge Dyot, his coach at Paris Judo and later at Lagardère Paris Racing, was never far away. The two men have known each other since Teddy was a teenager.
One year, during a session, the coach gave his own black belt to his young judoka, who had forgotten his. « I then wore it for a fight », remembers Teddy. « It brought me luck. I found it suited me better than him. Since then, I've always had it with me. I wear it in all my competitions. It's my favourite belt. »
On the tatami, Teddy admits that he « never underestimates anyone, even the most modest opponents. » He has had this mindset since his childhood, when he lost to his brother, Moïse Dimitri, who is 2 years older than him, in a fight lasting less than 20 seconds. « I was better than him », remembers Teddy. « I had the opportunity, by beating him, to show our parents who was the strongest. But I was too sure of myself. That meant I'd already handed him victory on a plate. He swept me away. »
At the Beijing Olympics, Teddy appeared on the podium (to claim his bronze medal) with a picture of his best friend, a judoka trained in Aubagne. He was fighting leukaemia at the time, and Teddy wanted to send him « a strong signal to give him courage. » Since then, the young man has overcome the disease. He is now in remission.
Teddy has had only two significant defeats since his arrival in senior competition: at the Beijing Olympics, in the 3rd round against Uzbekistan's Abdullo Tangriev (penalised for non-competitiveness), then in the all category final at the 2010 World Championships in Tokyo, against Japan's Daiki Kamikawara (by decision). However, he has not been beaten through a takedown since the Tournoi de Paris in 2006 when, as a junior, he was beaten by Russia's Jury Rybak. On the evening of his seventh world heavyweight title in late August 2014, in Chelyabinsk, he had accumulated 65 consecutive wins in fights since September 2010.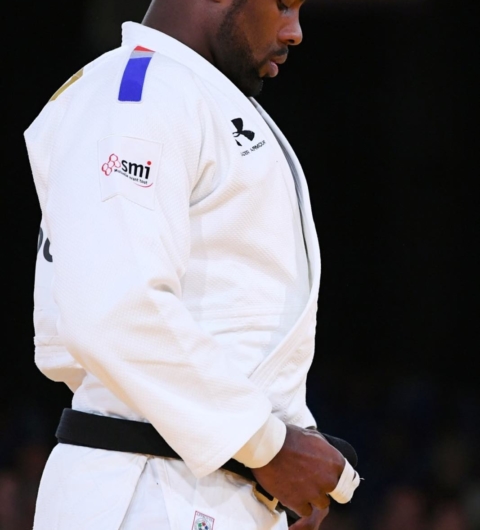 Teddy has always been endowed with extraordinary physical qualities. « At school, I was already a head taller than the others », he remembers. His father, Moïse, stands at 1.89m tall. Teddy measures 2.03m. His ideal weight is 135/140 kg.
He only began lifting heavy weights at the age of 18/19. « Before then, I was content with strengthening and toning », he explains. His current record (summer 2011) is 160 kg, both for the pull and the bench press. His physique is a major advantage. Nevertheless, many judokas in his category are physically imposing. It is probably the intensity, method and regularity of the work he does every day with his coaches which is Teddy's greatest asset.
Since the start of his judo journey, Teddy has worn the colours of four successive clubs: Paris Judo (formerly PSG), Judo Club Bolivar, Lagardère Paris Racing and Levallois Sporting Club (since September 2009). He has been coached by Alain Perriot (Paris Judo then JC Bolivar), Dominique Paolotzi (Pôle Espoirs de Rouen), Serge Dyot (Paris Judo then Lagardère Paris Racing), and Christian Chaumont (Levallois SC) since 2009.
He has been a member of the French national team since the age of 15, for which he has trained since 2004 under the responsibility of Benoît Campargue and, for the youth teams, Franck Chambilly. Since the London Olympics, his national training has been coordinated by Franck Chambilly (following the departure of Benoit Campargue). Christian Chaumont still coaches Teddy at the Levallois club.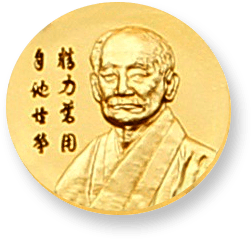 2023 World Championships – Doha (QAT)
2023
Grand Slam – Paris (FRA)
2021 Olympic Games – Tokyo (JAP)
2021
Olympic Games – Tokyo (JAP)
2021 Masters – Doha (QAT)
2019 Grand Slam – Brasilia (BRA)
2019 Grand prix – Montréal (CAN)
2017 Grand prix – Zagreb (CRO)
2017
World Championships – Budapest (HUN)
2017
World Championships – Budapest (HUN)
2016
Olympic Games – Rio de Janeiro (BRA)
2016
European Championships – Kazan (RUS)
2015
Masters – Rabat (MOR)
2015
Grand Prix – Jeju (SKO)
2015
Grand Prix – Qingdao (CHN)
2015
World Championships – Astana (KAZ)
2015
French Championships – Rouen (FRA)
2014
European Championships – Montpellier (FRA)
2014
Grand Prix – Jeju (KOR)
2014
World Championships – Chelyabinsk (RUS)
2014
French Championships – Villebon-sur-Yvette (FRA)

2014
European Championships – Montpellier (FRA)
2013
Grand Slam – Paris (FRA)
2013
World Championships – Rio de Janeiro (BRA)
2013
European Championships – Budapest (HON)
2012
Olympic Games – Londres (GBR)
2012
Grand Slam – Paris (FRA)
2011
World Championships – Paris (FRA)
2011
European Championships – Istanbul (TUR)
2011
Masters – Baku (AZE)
2011
Grand Slam – Paris (FRA)
2011
World Championships – Paris (FRA)
2011
French Championships – Liévin (FRA)
2011
European Championships – Istanbul (TUR)
2010
European Championships – Vienna (AUT)
2010
World Championships – Tokyo (JAP)
2010
Masters – Suwon (KOR)
2010
Grand Slam – Paris (FRA)
2010
Grand Prix – Lisbonne (POR)
2010
World Championships – Tokyo (JAP)
2009
Grand Slam – Paris (FRA)
2009
World Championships – Rotterdam (NET)
2008
World Championships – Levallois-Perret (FRA)
2008
Olympic Games – Beijing (CHN)
2008
Grand Prix – Lisbonne (POR)
2008
French Championships – Toulon (FRA)
2007
World Championships – Rio de Janeiro (BRA)
2007
European Championships – Belgrade (SER)